State Emergency Service (SES) - Volunteer ....
Meet a Team Memeber
Potentially the coolest outfits, skills, equipment and roles of volunteers at Schoolies - the SES literally 'deploy' to a destination in need of their skills all round Australia either at super short notice or via planned work like Schoolies Week. A super impressive outfit, and one of the coolest volunteer opportunities once you turn 18. Definitely say hi to them and have a chat about volunteering if you can catch one standing still as they are hard working and 'Oscar Mike' (on the move) the whole week.
We found a chain saw weilding / skills accumulating / fun loving / super volunteer from the SES to chat with: This is Emilea!
What's your name and current job (role in the SES)?
o Emilea - I am a Senior Field Operations member in the Gold Coast Unit at Pimpama SES. I also work for Queensland Fire and Emergency Services (QFES) in the South Eastern Regional Office.
Did you complete tertiary studies and if so what in?
o Yes, I jumped straight into full time study at QUT after high school. I have just completed a double bachelor degree in law and applied sciences with a major in forensics.
Did you celebrate your own schoolies, if so where / if not comment.
o No I didn't. If I did however, I think I would have been doing exactly what I am doing now anyway. That is, helping my mates out, looking out for them and making sure everyone had a fun and safe Schoolies experience.
What is your current involvement / impact on young people celebrating Schoolies (at what destinations)?
o I volunteer with the Gold Coast SES unit and we are tasked with assisting Queensland Ambulance Service (QAS) during the Schoolies week down at Surfers Paradise. We assist in things like patient transport, communications and first aid.
Schoolies support services are often provided by services who work year round on other things, please give us a brief overview of the other services your organisation provides.
o The SES is a primary responder for storm and flood events. However we also support other agencies like the Police and the Ambulance in functions like search and rescue (including vertical rescue), emergency traffic management, events and community education.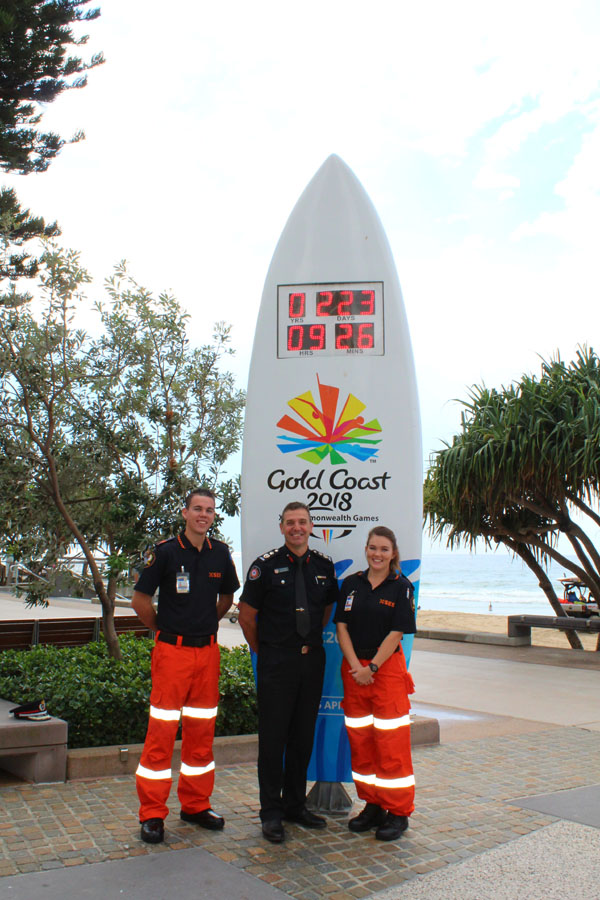 Jayde and Emilea with one of the big bosses Deputy Commissioner Mike Wassing, from the SES.
Personally, would you encourage today's graduates to work or volunteer for the SES, and if so do you have any tips or advice for a young you pursuing a similar path?
o Absolutely. The SES has given me the opportunity to learn a myriad of practical and technical skills that I, otherwise, wouldn't have had the opportunity to do. Things like operating a chainsaw and becoming confident at working at heights.
I love working as part of a team to help the community in a tangible way when it is really needed most. I would encourage anyone interested in finding out more to fill out a recruit enquiry form or simply getting in contact with your local SES office.
How can people support your organisation?
o Any support to the SES is greatly appreciated. For more information about supporting the Queensland SES and getting involved go to www.ses.qld.gov.au