Red Frogs - Volunteer / Donate ....
Meet a Team Memeber
Yes these are the Red Frogs people, the one's who hand out those tasty little treats during Schoolies. Volunteering in hotels - visiting rooms, mediating with hotel management when there is a drama, assistance with lodging accommodation complaints, patroling the streets and running activities.
Importantly, they also will walk you home to your hotel safely.
Red Frogs Schoolie Support Line: 1300 557 123
They cover a lot of destinations and need a lot of volunteers - and donations, so check this out: we tracked down a frogger and interviewed them - here is the interview....
What's your name age, and current role?
Laura 21, volunteer - Red Frogs Media.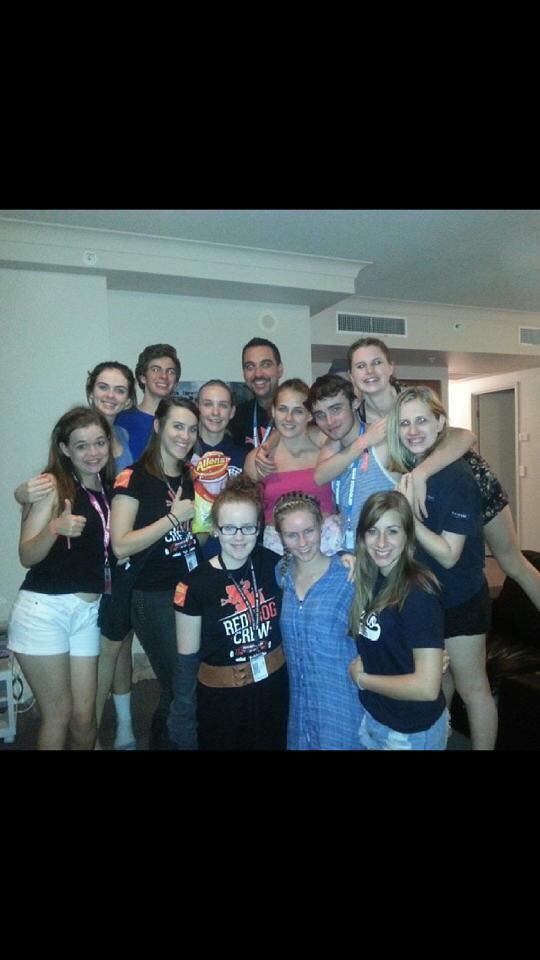 Pic - Laura and her mates at Schoolies.
Did you complete tertiary studies and if so what in?
I graduated a bachelor of Journalism at The University of Queensland, 2016 and have continued further study.
Did you celebrate your own schoolies, if so where?
Yes, my friends and I celebrated schoolies on the Gold Coast in 2013.
Where did you go / what was the best part and not so best part of your experience?
We stayed at the Mantra Chevron, and with 9 people in our group we were split between 3 rooms. That didn't stop us from spending nearly all of our time together. We were lucky to be such a tight knit group of girls and to have been so prepared and organized with food, supplies and entertainment so we could have a cost effective but still awesome week.
Do you have a funny anecdote to share?
On the Tuesday night we made tacos for all the schoolies on our floor, (that's the point at which everyone starts to get a little sick of noodles and fast food). Schoolies is an awesome opportunity to make friends with new people, not just the people you've spent the last 12 years with.
What support services did you or your friends have contact with?
We had an awesome bunch of Red Frogs that we loved hanging out with at schoolies. They came and hung out with us a few times, and on the last night we made them pancakes and tea and played UNO until sunrise before we cleaned our apartment. They were a great support, leaving school is exciting and daunting and I remember really feeling relieved to have someone there who wanted to listen to me.
Did anything bad happen to you or one of your friends at schoolies - e.g. violence, sexual assault, theft, dodgy companies etc?
We were lucky to be so well prepared by our school and the visit from Red Frogs so we knew to stick together, keep track of each other on the many adventures of the week, keep our phones charged and with us and so we really didn't have any issues during the week.
If we had any issues, we also knew where to find support and who to call in an emergency. I think if you're mindful and keep in contact with your friends, set yourself reasonable boundaries and stick to them - you can lower your chances of having any of these bad experiences.
Most importantly for us, we valued each other over everything else in that environment, it's a great week of fun and partying but you don't want that to get in the way of your friends and their lives or happiness either.
What is your current involvement / impact on young people celebrating Schoolies (at what destinations)?
This year I'm helping run the media team for Red Frogs on the Gold Coast. As a Media and Coms graduate it's great experience building connections with organisations and managing representatives from this side. This is my second year with frogs and I'm so excited to get back into the atmosphere and help this years graduates have the positive experience I had.
Schoolies support services are often provided by services who work year round on other things, please give us a brief overview of the other services your organisation provides.
Red Frogs begin in schools before schoolies and go way beyond end of school celebrations. We're a massive part of university culture through colleges and Uni networks, we're at festivals all over the country and internationally providing support, water and those all important Allen's frogs lollies and now we're at the cricket as well. The Ashes start during schoolies week and we'll have a team there to keep everyone happy and hydrated.
Pic - Laura and her mates now.
Tell us about volunteering & How can people support your organisation through donations or by volunteering?
Being part of the Red Frogs is an incredible opportunity. We're a network of hundreds of volunteers coming together to make sure this week is as enjoyable and safe as it can be and I encourage anyone who has that great experience with us at Schoolies to look into applying to become a volunteer, or donating some dollars to help pay expenses for our volunteers..
Volunteer: 1300 557 123